Our Digital Standee for banks and insurance companies is a best-in-class tool that blends user-friendly functionality and modern design. Our Digital Standee for banks and insurance companies contributes as a dynamic platform for strikingly displaying important details, offerings, and announcements.

The days of static posters or flyers being easily ignored are long gone; our digital standee at banks and insurance companies engages the audience by displaying content in an eye-catching way with lasting impacts.
The Digital Standee for banks and insurance companies provides maximum content updates without trouble, keeping the customers informed of promotions and events. It can easily be modified for what information appears, allowing you to keep your customer base well-informed of new offerings.

Whether you run an insurance company, a bank or manage any other business, our digital standee at banks and insurance companies contributes as a robust platform for displaying essential details, information, and announcements in an impactful manner.
Our Interactive kiosk for banks and insurance companies has vibrant colour screens and an incredibly responsive and user-friendly interface. This technology has transformed how information is accessed, making it easier for staff and customers.

These Interactive Kiosks for banks and insurance companies are a powerful resource for staff to input and update useful information. The colourful screens and user-friendly interface make navigation much more straightforward, allowing staff to provide customers with real-time updates, essential services, and promotional offers efficiently and effectively.
For customers, these Interactive Kiosks are a game changer. They no longer need to move from person to person or wait in long lines to gather information or inquire about services. With just a tap on the screen, customers gain access to a wealth of information at their fingertips.

The user-friendly interface ensures that even those who aren't tech-savvy can effortlessly explore various services and options. Customers can make informed decisions independently and at their own pace, resulting in enhanced satisfaction and reduced wait times. The Interactive Kiosks for banks and insurance companies lighten the workload of customer service representatives, allowing them to focus on more complex queries and personalised assistance. This leads to increased efficiency and a more effective allocation of resources.
Our Wall Mount Displays for banks and insurance companies are state-of-the-art technology. Featuring their impressive display capabilities, our Wall Mount Displays are ideal for presenting customer information effectively while making memorable presentations and facilitating other displaying activities.

At banks and insurance companies in today's fast-paced business world, communication between bank employees and their customers must be efficient and effective to stay ahead of the competition. Wall Mount Displays provide banks and insurers with an ideal method for sharing vital customer information clearly and effortlessly – from interest rates and investment choices through insurance plans and policy details – our Wall Mount Displays ensure their clients remain fully informed.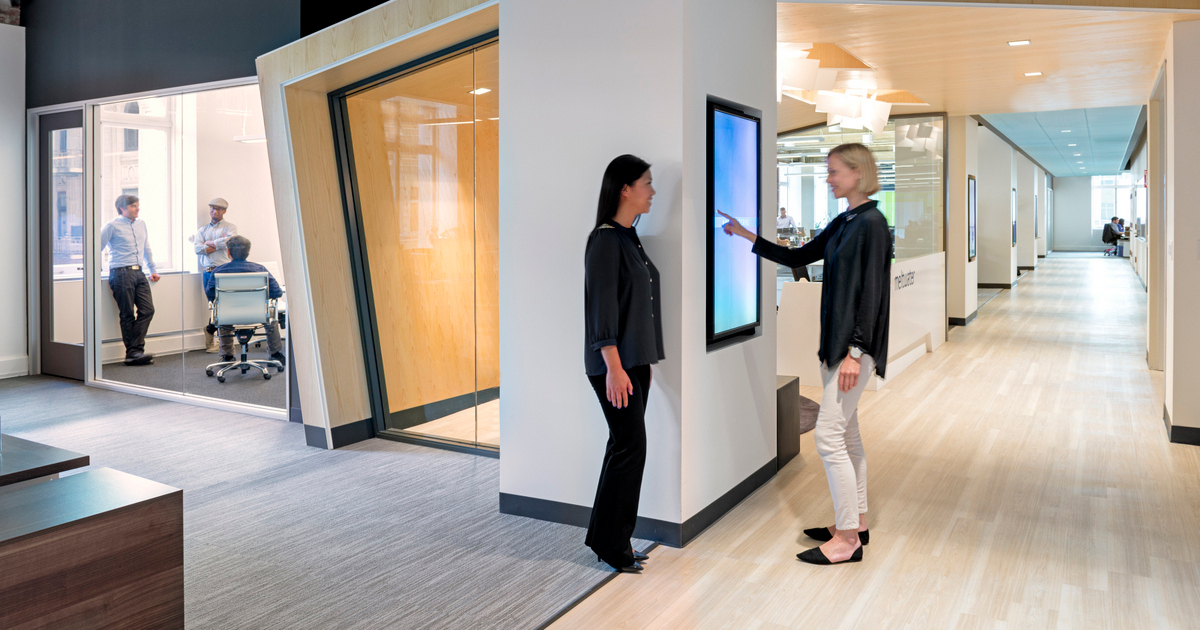 Beyond customer interactions, these displays also prove invaluable during internal activities like employee training, team meetings or conferences – our Wall Mount Displays deliver a high-quality, immersive experience providing easy presentations of complex information, and making complex information easily understandable for audiences of any size.

Wall Mount Displays from Vorson provide benefits beyond financial institutions. Businesses from different industries can take advantage of its functionalities at conferences, trade shows, or exhibitions; its striking visual performance and ability to show content quickly engages audiences while leaving lasting memories with visitors.
Our Video Walls give banks and insurance companies powerful ways to convey messages effectively. Visitors and staff members alike benefit from being informed. Plus, our visually stunning designs add an aesthetic flourish.

Communication is at the core of every successful business in today's fast-paced environment, especially banks and insurance firms which deal with abundant information from financial updates, promotional offers, announcements and company updates. Our Video Walls at banks and insurance companies are the ideal way to present all this data in an engaging yet captivating format.
Visitors at banks and insurance companies can be welcomed with captivating displays that grab their attention while conveying company messages effectively – creating an enjoyable customer journey and leaving lasting memories. This approach impresses customers and staff and ensures maximum employee visibility as they enter our premises.

Video Walls at banks and insurance companies offer customer benefits and are equally valuable tools for internal communication within an organization. With these dynamic displays, employees can stay apprised of updates, training sessions, company policies and company initiatives, thus creating an engaged workforce leading to higher productivity within your workplace and an enriched sense of belonging in its ranks.

Our Video Walls for banks and insurance companies are created with ease of use in mind, offering user-friendly content management and updates. Their intuitive user interface enables staff members to tailor the information displayed for maximum relevance and upkeep.
The Queue Management System we offer is an advanced solution to streamline visitor management at banks and insurance companies. Thanks to its user-friendly interface and advanced features, this solution allows organisations to operate efficiently by serving all their customers quickly and effectively.

Our Queue Management System revolutionises how businesses handle customer queues. Long wait lines and unhappy visitors are no more, as this high-tech solution streamlines every aspect of queuing for visitors and staff alike, creating an enjoyable customer service experience for everyone involved in the queuing process.
Our visitor management kiosk for banks and insurance companies is an innovative technological solution, helping these organisations efficiently monitor who enters and leaves their premises, manage reservations efficiently, identify visitors via facial recognition technology, and serve as an additional layer of protection. Beyond its practical uses, this smart technology also serves to add another level of security.

Imagine an easy system for banks and insurance companies that allows them to keep an accurate record of who's entering and leaving their offices – this is exactly what our visitor management kiosk can do – it acts like a digital receptionist keeping things secure while helping organise things in advance.

One of its key strengths lies in managing appointments. Visitors who wish to visit can reserve a time slot through the kiosk; when they arrive, this makes the entire process simpler and faster.
Feedback Management kiosk
Our innovative Feedback Management Kiosk is an investment perfect for banks and insurance companies. This cutting-edge solution revolutionises customer feedback collection with a real-time digital feedback mechanism – no longer need for paper reviews; our kiosk streamlines everything, making the whole experience simple for both customers and management.

Led by digitisation, our Feedback Management Kiosk at banks and insurance companies raises customer satisfaction levels to new heights. With an easy, user-friendly interface, customers can share their experiences easily via just a few taps – guaranteeing their voices are heard loud and clear. Businesses using real-time feedback mechanisms such as this enable swift action for continuous improvement – leading to swift results.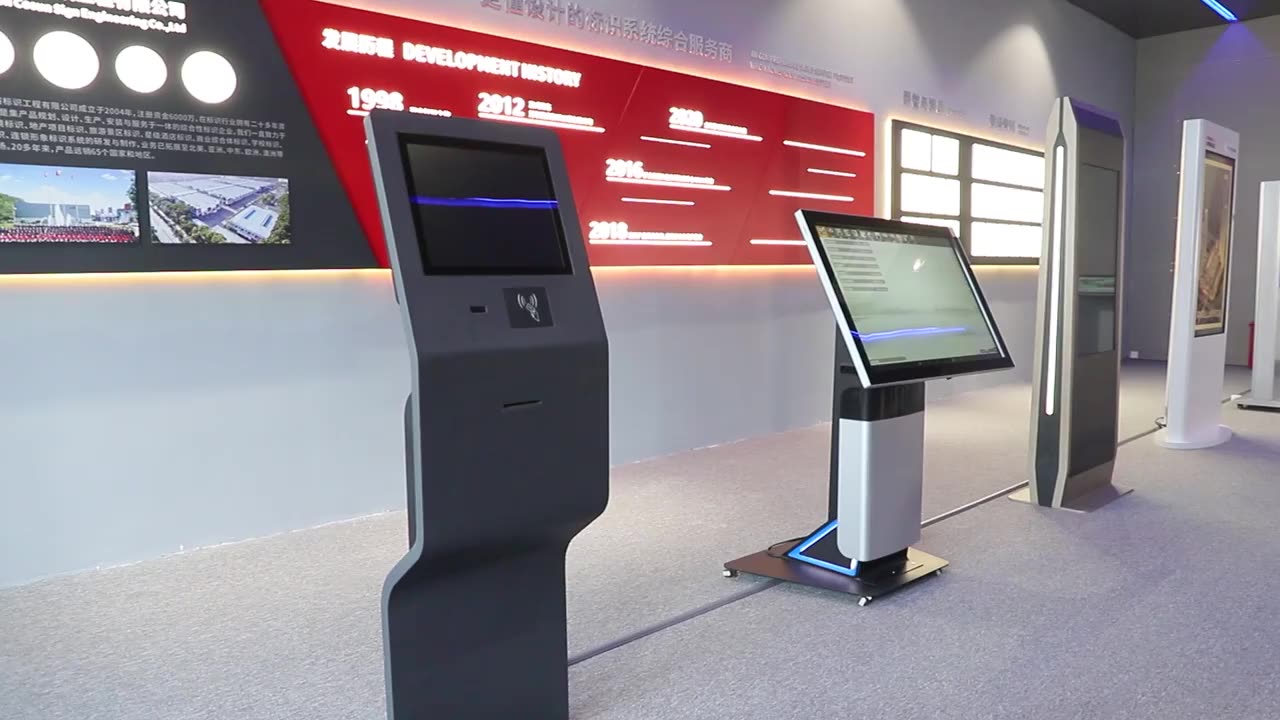 No longer must management teams spend hours sorting through piles of paperwork reviews; our innovative kiosk can now collect data electronically for easy management by management teams. Analytic insights obtained through collecting this data offer invaluable information that guides strategic decisions and increases overall performance.

Digital solutions simplify feedback processes while significantly elevating customer experiences. Customers appreciate being able to provide immediate feedback without needing follow-up calls or emails afterwards. This proactive approach shows customers that you sincerely value their opinions and concerns, cultivating greater loyalty and trust from them in return.

Our Feedback Management Kiosk also empowers businesses to remain ahead of the competition. Real-time feedback allows for rapid adjustments and improvements that help preserve an edge in an ever-evolving market. Embracing digital transformation has never been more essential, and our kiosk provides a smooth transition toward creating more efficient customer environments.