Our Wall Mount Digital Menu Boards for restaurants and food chains feature vibrant visual displays to capture customers' attention quickly, making these boards ideal for restaurants or food chains looking to promote their offerings quickly and effectively. Customers are provided all of the information necessary for informed choices when placing an order using these boards; their vibrant displays make finding what you are searching for effortless.

Our Wall Mounted Digital Menu Boards at restaurants and food chains provide convenience, aesthetics and sophistication in dining environments. Their elegant appearance adds depth and refinement which elevate the ambience.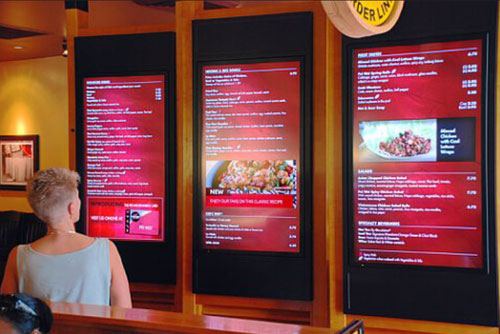 The Digital Menu Boards at restaurants and food chains enable the owners to easily update their menus with specials or limited-time offers that keep customers informed of current offerings and promotions transparently.

Digital Menu boards at restaurants and food chains provide the management with an effective and efficient means of engaging their customers and expanding appetites. Their attractive displays draw customer interest while fuelling anticipation about future dining experiences.

Digital Menu Boards at restaurants and food chains combine functionality and aesthetics, making them essential tools for modern restaurants and food chains. Their eye-catching content fits beautifully into any interior space to enhance customer experiences and overall satisfaction levels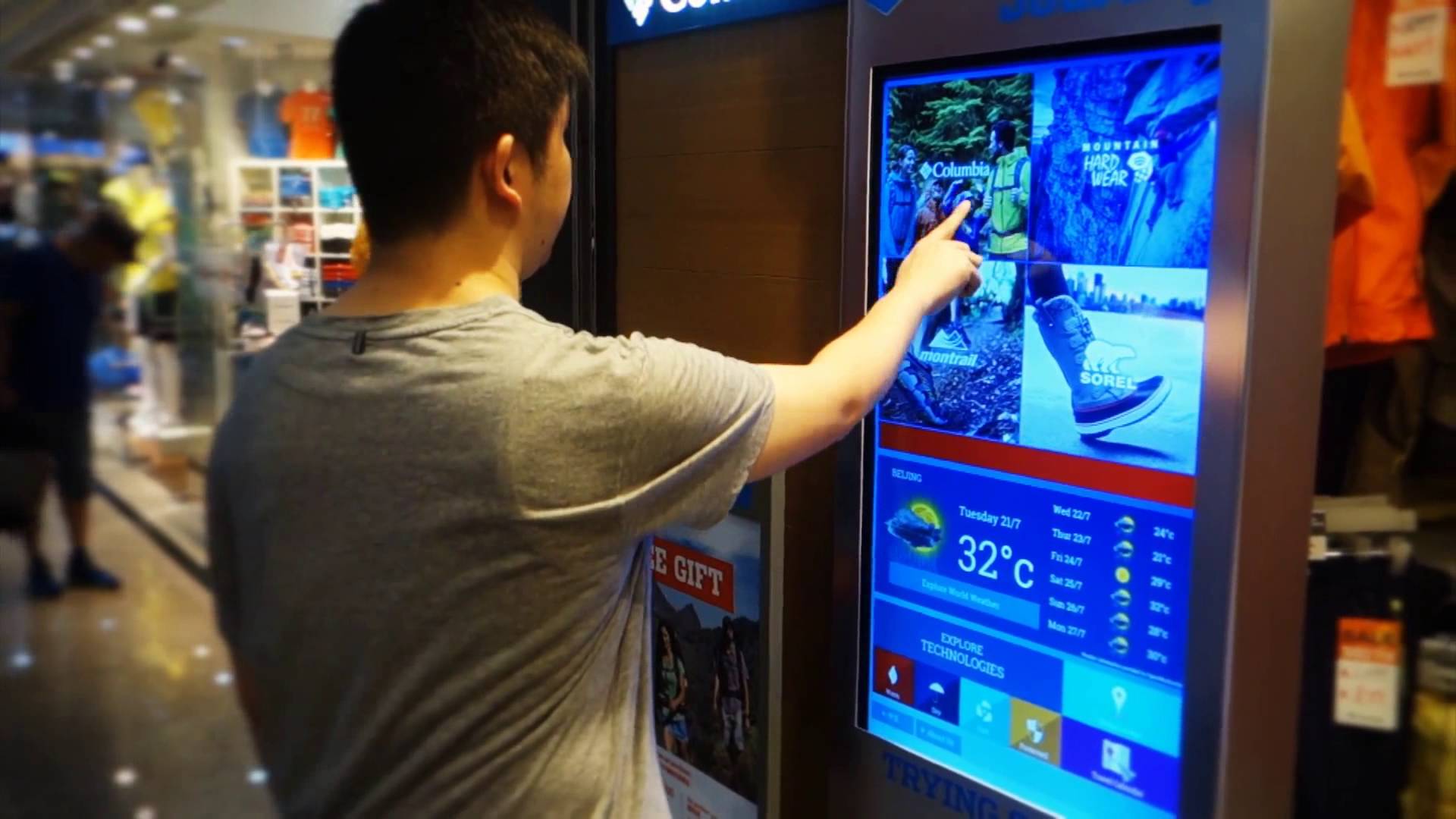 Interactive Digital Standee
Our Interactive Digital Standee is a multipurpose device with an easy-to-use touchscreen interface ideal for many industries – particularly restaurant, salon and spa staff. Customers and staff alike find our Interactive Digital Standee extremely useful.

With its interactive touch screen and multiple functions and services that enhance restaurant dining experiences, Digital Standee at restaurants provides customers with instantaneous access to essential details about the menu, daily specials, nutrition information and allergen warnings, giving diners all they need to make informed choices that suit both preferences and dietary restrictions.
Our Interactive Digital Standee for restaurants and food chains goes far beyond simply providing information, it also provides customers with access to placing orders directly through it – saving both time and hassle while creating a more effortless dining experience for customers.

Restaurant staff finds the Digital Standee an indispensable way to organise orders and monitor table reservations, updating menus instantly to add/remove items and adjust prices as required. The Standee also displays estimated wait times during peak hours to facilitate operations smoothly while improving customer service.

Restaurant and food chains can also utilise it for promotional purposes to display eye-catching ads, events, or loyalty program offers that help engage their customers effectively and encourage repeat business. This ensures effective engagement and repeat visits by the clients.

The Interactive Digital Standee at restaurant and food chains is designed with user-friendliness in mind, making it accessible for people of all ages. Its modern appearance adds to the ambience of restaurants while creating a dynamic dining environment where diners can appreciate it fully.

The Interactive Digital Standee for restaurants and food chains is an incredible technological feat seamlessly blending functionality, interactivity and aesthetics to elevate both customer experiences as well as staff training experiences. Thanks to its versatile nature, it meets various needs making it an indispensable asset in maintaining a competitive edge in today's digital landscape.
Our high-tech Order Placing Kiosks, designed exclusively for restaurants and food chains, allow customers to have a more accessible and smoother ordering experience without standing in long queues. These highly interactive kiosks make placing orders effortless without leaving customers waiting in long lines.

Our Order Placing Kisoks for restaurants and food chains provide the ideal setting for those seeking a more private and introvert-friendly dining experience. No more engaging in small talk with staff – navigate the user-friendly interface, place the order quietly, and await the swift delivery of delicious cuisine.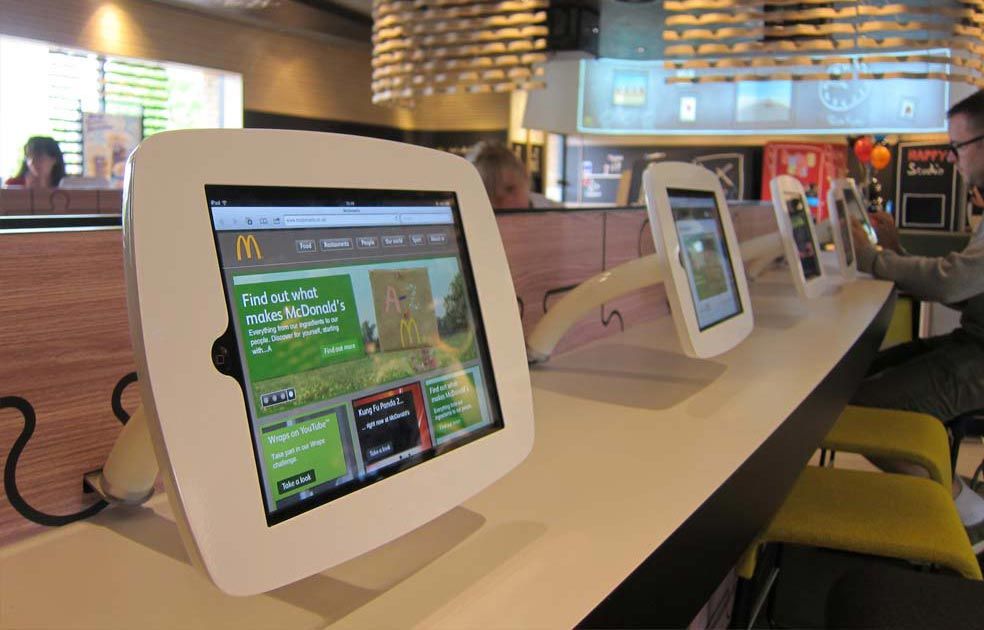 Not only do kiosks cater to individual preferences, but they can also enhance your restaurant and food chain's efficiency by shortening queues and cutting wait times. Hence, getting services and ordering becomes smoother, allowing more customers to be attended without delay.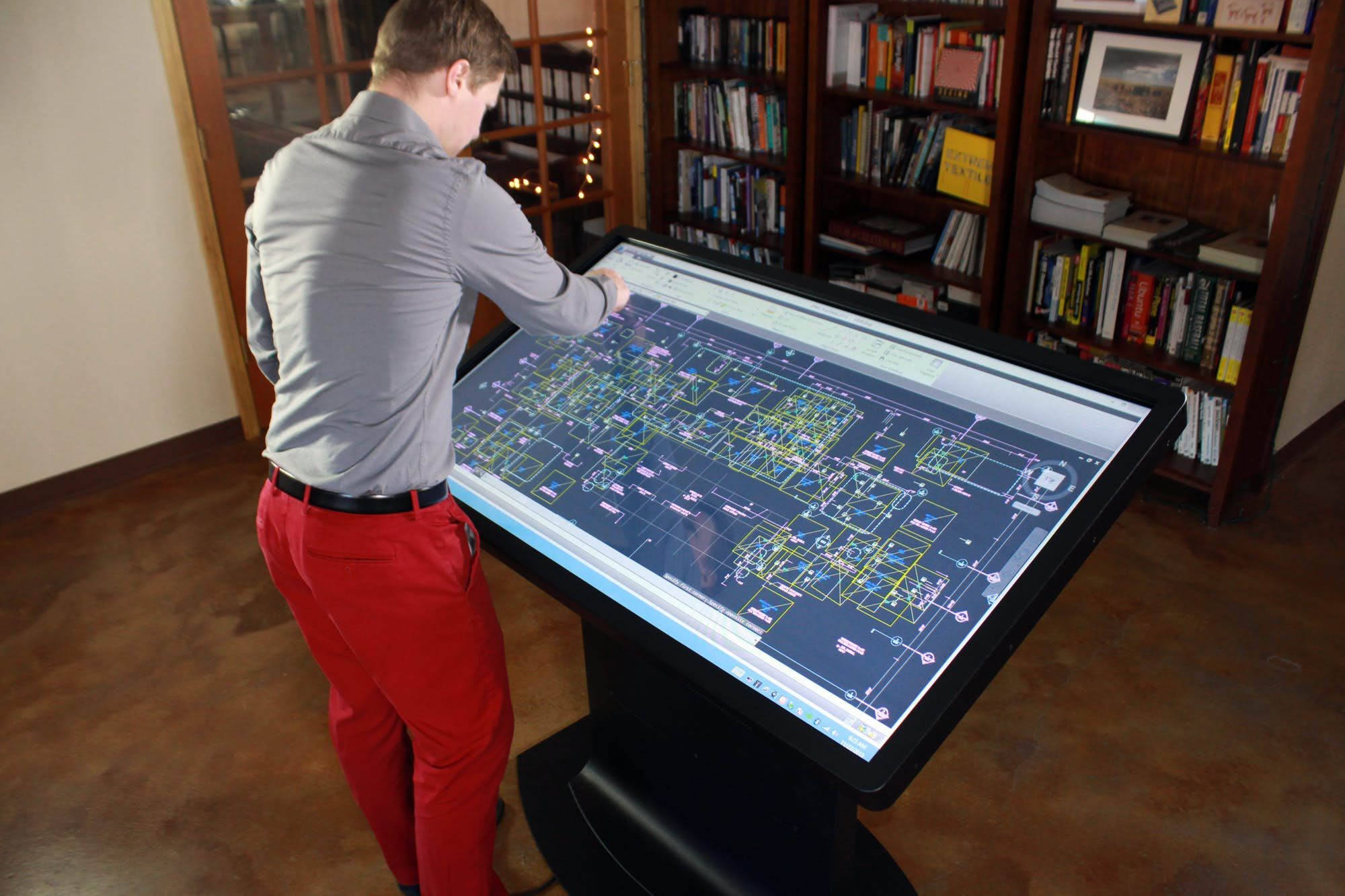 Interactive Feedback Kiosk
Our Interactive Feedback Kiosk for restaurants and food chains has revolutionised how they collect customer feedback, particularly for restaurants. Gone are the days of manually gathering reviews and customer comments; today's digital customers no longer prefer writing reviews by hand, instead, with our innovative interactive kiosk offering hassle-free reviews for customers while providing significant benefits for cafes and restaurants.

With our user-friendly Interactive Feedback Kiosk at restaurants, customers can now quickly share their opinions with just a few taps on the screen. Whether they want to rate food, service, and ambience or provide specific comments – everything from rating food items, service providers or providing feedback becomes simple and efficient for their convenience resulting in greater insight into customer preferences and expectations.
Restaurants and food chains can benefit greatly from using this technology. The data gathered through kiosks provides invaluable insights into customer satisfaction levels and areas needing improvement. This real-time data allows businesses to quickly identify any issues and make the necessary adjustments to enhance dining experiences for all guests.

Digital feedback ensures accurate and legible responses, decreasing any misinterpretation or errors that might otherwise come about through handwritten reviews. With greater clarity of feedback for restaurant owners and managers to analyse more quickly and make informed decisions to meet customer demand better, digital reviews provide excellent analysis capabilities. They can make valuable suggestions as to where improvements may need to be made in customer experience management.

It is a win-win solution for both customers and restaurants – customers get an effortless feedback experience, while restaurants gain insight, engagement, and opportunities for targeted marketing.
Table Top Digital Signage
Table Top Digital Signage for restaurant and food chains can be an incredible addition to your digital assets and can be utilised in many industries, particularly restaurants and food chains. Customers can quickly view different categories on your menu without the hassle of having to scroll manually through it all themselves.

Modern digital menu updates make menu management much more straightforward. While traditional paper menus were difficult to update, digital signs make menu updates effortless – you can quickly add items, indicate what items may not be available yet and present special offerings every day, giving customers an easily updated picture of what is new and exciting at your restaurant.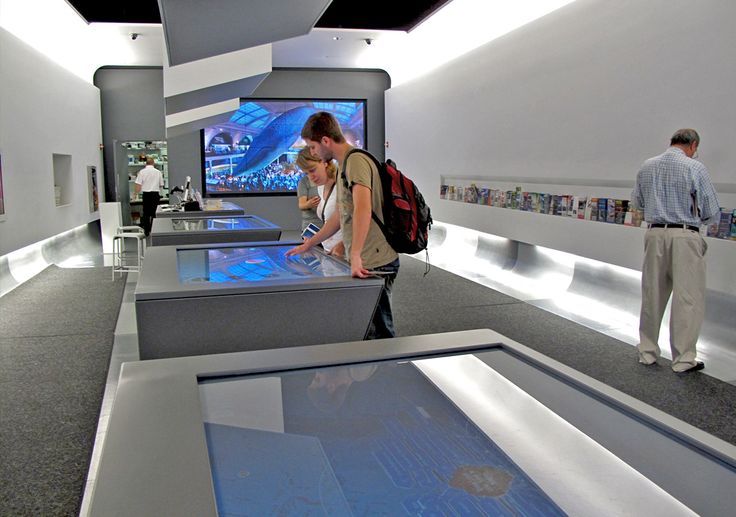 Table Top Digital Signage not only makes your restaurant more manageable and stylish to operate, but it gives it a trendy modern aesthetic as well. It will catch customers' eyes and impress tech-savvy diners, setting you apart from restaurants and cafes using outdated menus.

It also improves communication with customers. You can share chef recommendations and ingredient information or request feedback using interactive features – building stronger bonds between yourself and guests that keeps them coming back time after time.

This versatile technology is not limited to restaurants but can also be utilised by hotels to advertise services, stores for product display, offices for presentations and presentations in dynamic ways.

Table Top Digital Signage can be an incredible asset to restaurants and other businesses. It makes menu presentation straightforward, adds a modern touch, and delivers exceptional customer experiences, meaning more customer happiness – which equals increased revenue and business for you.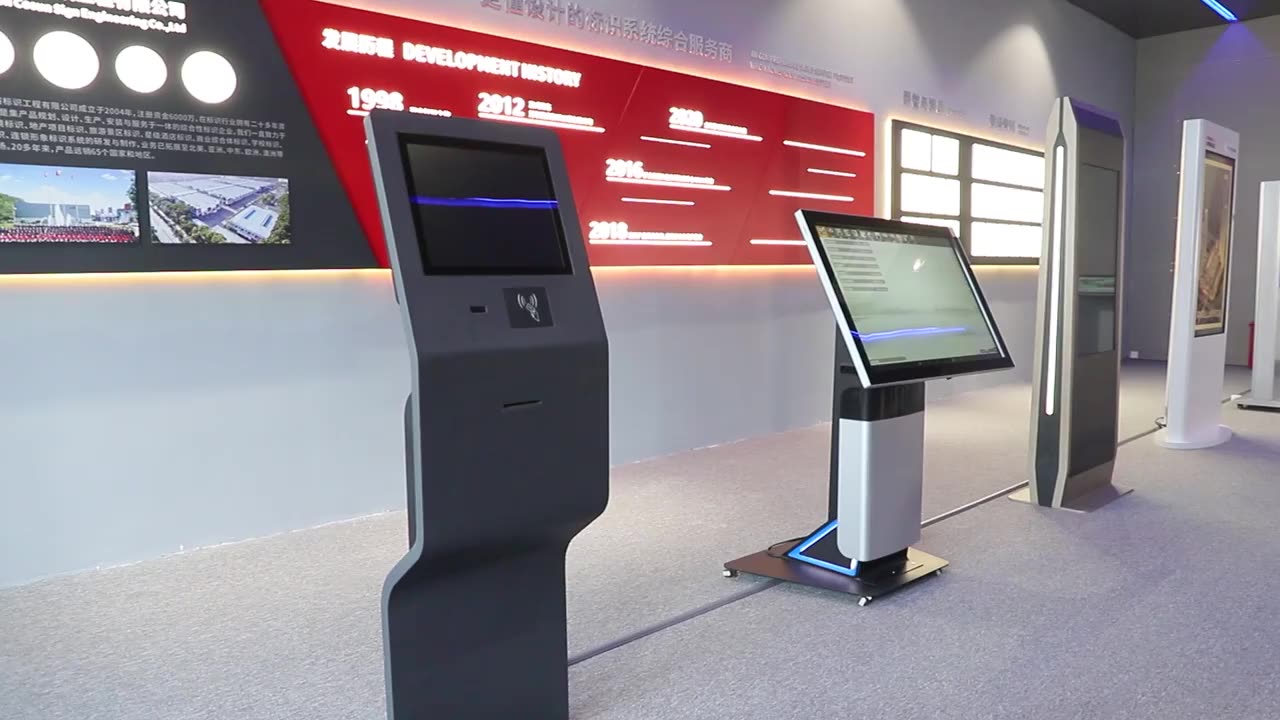 Our Visitor Management Kiosk is an advanced yet user-friendly system designed to streamline tracking visitors and enhance restaurant security. This cutting-edge technology revolutionises how restaurants manage guest arrivals by keeping a comprehensive record of every guest that visits at what time and date.

Restaurants using the Visitor Management Kiosk can efficiently verify guest reservations and welcome valued visitors promptly upon arrival. Gone are the days of manual paper logs or guessing; instead, this kiosk can be used to efficiently capture essential visitor data to streamline check-in for guests and staff.
This versatile system can go far beyond managing reservations; it can serve multiple functions, including tracking regular customers, understanding peak hours and analysing foot traffic patterns depending on the software features. By compiling such valuable data for analysis, management can optimise operations, increasing service efficiency and meeting customer preferences more precisely.

Visitor Management Kiosks do not simply provide convenience; they can also play an invaluable role in safeguarding organisations by instantly verifying visitors' identities and acting as reliable gatekeepers who ensure only authorised individuals gain entry.