Our Indoor SMD Video Wall mount directly on walls for an extraordinary visual experience. Boasting high-resolution power and superior display quality, customers can enjoy vibrant hues that bring the content alive.

Our advanced Indoor SMD Video Wall for hotels, salon and spas ensure content can be displayed in an engaging and eye-catching fashion, whether that means presentations, videos, images or any other visual form of entertainment. They ensure every detail remains crisp and clear for an enhanced viewing experience.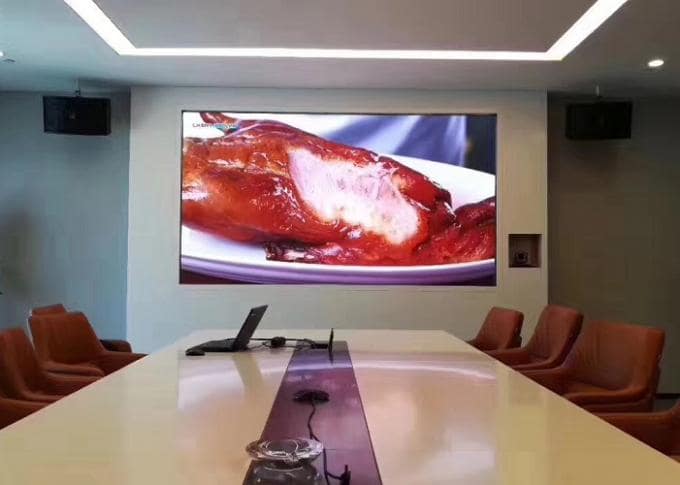 For hotels, salon and spas, the Indoor SMD Video Walls are effective visual communication tools designed to boost atmosphere and engagement in meeting rooms, auditoriums, and conference halls across hotels, salons, and spas.

Hotels often rely on SMD Video Walls to enhance guest experiences by seamlessly showcasing information, promotions and event details to their guests. From conference schedules and venue maps to providing visually striking backdrops for presentations – these screens leave a lasting impression on guests.

Indoor SMD Video Walls for salon and spas are perfect to engage customers, offer informational content or demonstrate services and special offers in an engaging, visually-appealing format that promotes relaxation while improving customer experience. With vibrant colours and crystal-clear visuals, these displays create an inviting and welcoming environment which increases customer satisfaction while improving the journey experience for every visitor.

These elegant displays fit into any Indoor setting thanks to easy setup and user-friendly controls, creating stylish elegance that complements modern environments perfectly.
Our Mobile Charging Station is an essential solution in today's technologically savvy society where most individuals own cell phones. Unfortunately, with increasingly power-hungry applications and usage habits draining battery power rapidly on these phones – leaving us disconnected when needed most.

Our Mobile Charging Station for hotels, salon and spas provides the ideal solution to this modern-day issue; conveniently placed stations such as in hotels, salon and spas the Mobile Charging Station can be seen throughout, serving various purposes simultaneously and benefitting both staff members and their customers alike.
Staff at hotels, salon and spa understand the significance of staying connected for efficient communication and smooth operations. Our Charging Station at hotels, salon and spas provides reliable fast charging solutions which keep staff members' phones topped-up quickly so that they stay abreast of important updates or appointments quickly and reliably. Using Charging Stations boost productivity as staff can stay in contact quickly with each important update or appointment they may have scheduled quickly and reliably.

The Charging Stations at hotels offer customers an enhanced customer experience by conveniently charging their phones while enjoying services provided by these organisations – such as relaxing spa services or grooming sessions in salons – without fear of battery runout on their phone battery – creating more satisfying and positive customer interactions overall.

Our Mobile Charging Station for hotels, salon and spas have sleek and modern design that fits seamlessly with any setting, creating an inviting ambience in any environment. Equipped with multiple charging ports compatible with all major phone models ensuring no one is left out.
Smart Visitor Management Kiosk
Smart Visitor Management Kiosk for hotels, salons and spas from Vorson Digital provides the ideal way to keep customer, client and visitor data organised and easily accessible – they can be equipped with features designed specifically to make this task simple for hotels, salons and spas alike.

With our Smart Visitor Management Kiosk, it is now easier than ever before to efficiently collect and organise important guest data – creating an exceptional guest experience. These kiosks serve as reliable digital assistants by keeping tabs on important data that may later prove invaluable for various purposes.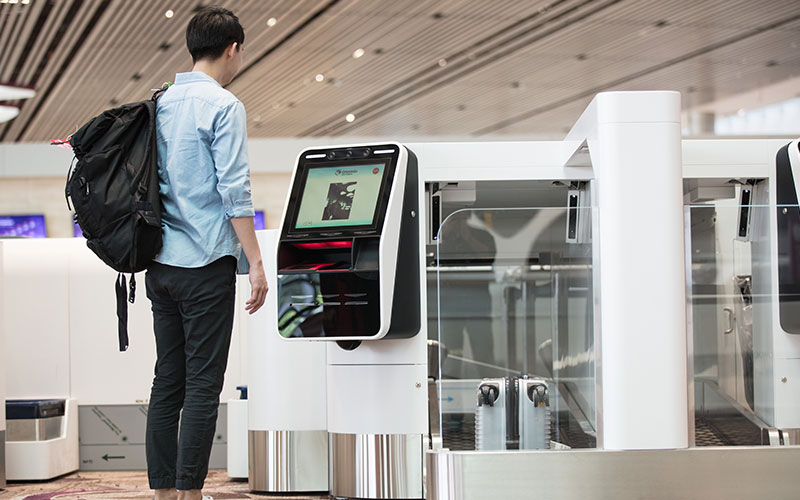 Our Smart Visitor Management kiosk for at hotels enable the staff to effectively register guests, track check-in and check-out times, store contact info and preferences of each guest and manage any special requests made during their stay, which leads to greater customer loyalty and satisfaction for your valued visitors.

Smart Visitor Management Kiosks for Salon and Spas offer an efficient check-in system, making appointments much simpler to schedule and keep track of. Each client's preferences, previous services provided, and contact info can easily be stored to enable personalised customer care while building strong client relationships.

Our kiosks add another level of protection by recording visitor data. This feature makes tracking and monitoring entries and exits much simpler – especially valuable in places with restricted access, providing another layer of safety to both you and the organisation's occupants.

Data collected via kiosks can also be utilised for valuable insights that allow for informed business decisions and customised services that effectively meet customers' needs.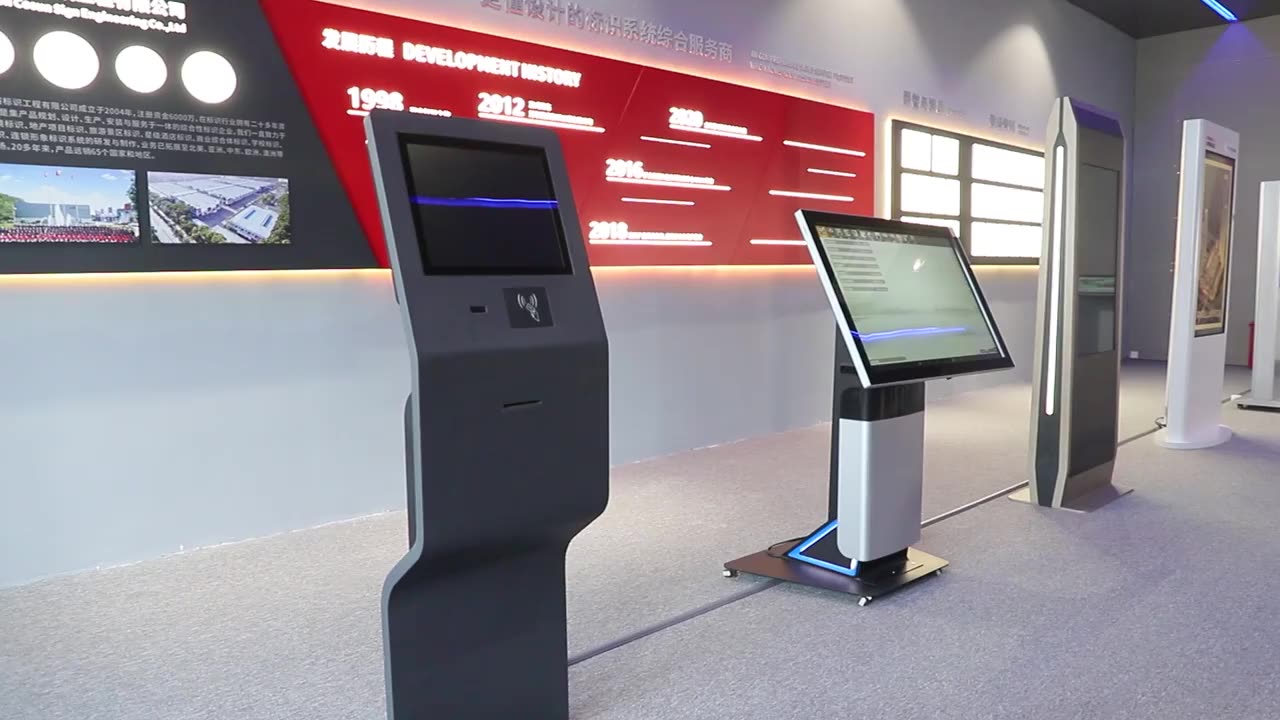 Our Feedback kiosk is essential to organisations aspiring to provide exceptional services – be they hotels salons and spas or modern businesses that pride themselves on becoming highly customer-centric. Through proactive feedback collection, a better understanding of customer behaviour and refining services accordingly, organisations can successfully become sustainable success stories that ensure long-term customer success stories with every endeavour undertaken.

Built specifically to assist hotels, salons and spas in gathering customer insights in order to continuously enhance offerings while meeting individual customer preferences and better comprehend needs and preferences, our feedback kiosk enables hotels, salons and spas to utilise this invaluable data collection method in order to gain meaningful information that enables them to continue improving services while understanding more fully what matters to customers.
Our Feedback kiosks demonstrate extraordinary dedication to customer service. Customers appreciate being heard by providing an accessible platform where customers can voice their opinions freely; businesses demonstrate they care deeply for customers' opinions while building lasting relationships and developing brand loyalty among customers.

Feedback kiosk is also essential in maintaining and growing a reputation, helping companies promptly address any negative comments to manage issues before they escalate and maintain a positive public image.
Digital Standees have quickly become indispensable tools for various organisations these days, serving as an informative source for visitors and customers alike in organisations like hotels, salons and spas.

Our Digital Standee features an attractive high-resolution display, ensuring your content looks incredibly attractive and captivating to anyone who sees it. It adds elegance and sophistication to any modern environment.
With its user-friendly interface and visually appealing design, our Digital Standee delivers important details and messages directly to your target audience. Whether that means showcasing promotional offers, sharing essential info, or simply creating a welcoming atmosphere – it does it all efficiently.

Salon and spa owners find Digital Standee a captivating centrepiece in their organisations, featuring stunning images of hairstyles, beauty treatments and relaxation packages from around the globe as well as real-time availability for appointments – creating a seamless customer experience. In addition to its aesthetic value, digital standee also prove highly functional; its dynamic nature allows effortless updates to keep information fresh. Plus, they can be programmed for different times of the day or special events to display tailored content tailored specifically for various events.

Digital Standee serves as an affordable marketing tool; its striking image and strategically-placed advertisements attract the attention of the passersby, creating opportunities to promote hotel, salon and spa services to potential clients.

Adopting cutting-edge technology like Digital Standee will revolutionise how your customers and visitors engage with you. Gone are the days of static displays; now is the time for dynamic and versatile Digital Standee displays that leave lasting impressions on everyone who sees them.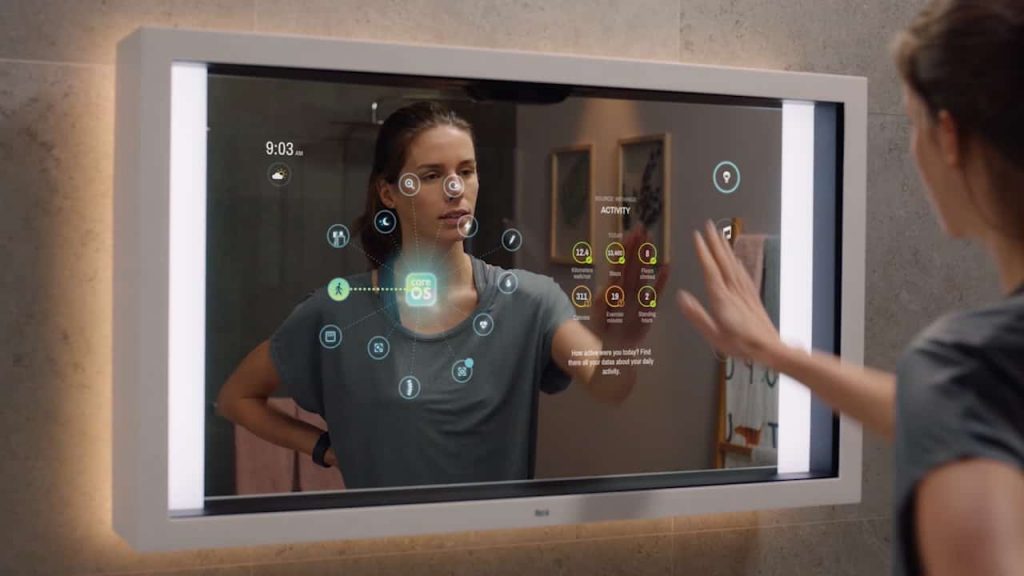 Our Smart Mirror is more than a mere display; it provides an innovative, versatile, and efficient means of showcasing information within an organisation. Furthermore, its stylish appearance adds modern charm and modern aesthetics to your space – be it Hotel, Salon, or Spa.

Gone are the days of traditional, static displays; our Smart Mirror at hotels, salon and spas can delight guests and customers with its modern appearance and serve both practical and decorative purposes. Not only is it useful, but its eye-catching decorative qualities help increase customer traffic at your organisation.
Imagine welcoming guests to your hotel lobby and offering them the experience of seeing an elegant, smart Mirror featuring weather forecasts, local events and promotional offers displayed prominently on it. In a hotel setting, customers could gaze upon its mirror-showcased menu items or special dishes or other special offering related to rooms and services while being entertained through live feeds or videos displayed upon it.

Salon and spa owners will find that Smart Mirror allows them to engage their clientele as they wait for services. You can display beauty tips, treatment options and appointments so as to provide customers with an engaging customer journey experience.

Our Smart Mirror's premium display ensures clarity and sharpness for a simple reading experience, whether text, images, videos or anything else that might appear. Everything appears vivid and appealing.

Beyond its aesthetic appeal, Smart Mirror also serves as practical organisational tools by replacing multiple screens or boards that clutter your workspace with just one space-saving solution.
Smart Digital Tables has become an essential component of many organisations today. Its significance lies in their ability to increase interactions and engagement among visitors while offering access to an abundance of valuable information at any moment's notice – also serving as dynamic platforms for effectively communicating projects or ideas.

Smart Digital Table has proven invaluable asset in businesses ranging from hotels and restaurants to salons and spas. Hotel guests can utilise it efficiently to browse services, amenities and local attractions that enhance their stay experience, while restaurants may utilise real-time updates and interactive menus to improve diner satisfaction.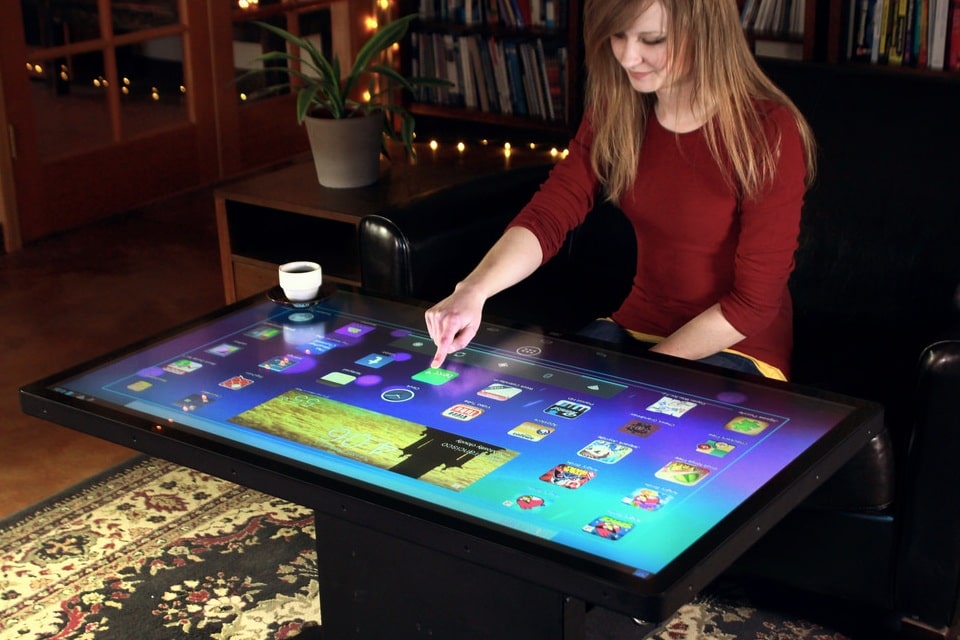 Salons and spas can use Digital Table to showcase their services, packages, and availability – drawing customers in while increasing brand recognition.

Smart Digital Table for hotels, salon and spas offer more advantages than just convenience for businesses and visitors. Its engaging interface draws them in, making it a powerful marketing medium by showing special offers, promotions and customer testimonials. Furthermore, user interactions provide invaluable data insights into customer preferences and behaviours – helping inform business strategies and decisions.

With technological evolution, our Smart Digital Table at hotels, salon and spas represents modern communication and information dissemination. By embracing this innovation, organisations can increase customer satisfaction, efficiency and performance across diverse sectors. It is not a luxury anymore but a necessity to stay competitive and relevant in this fast-paced, digital-driven world.