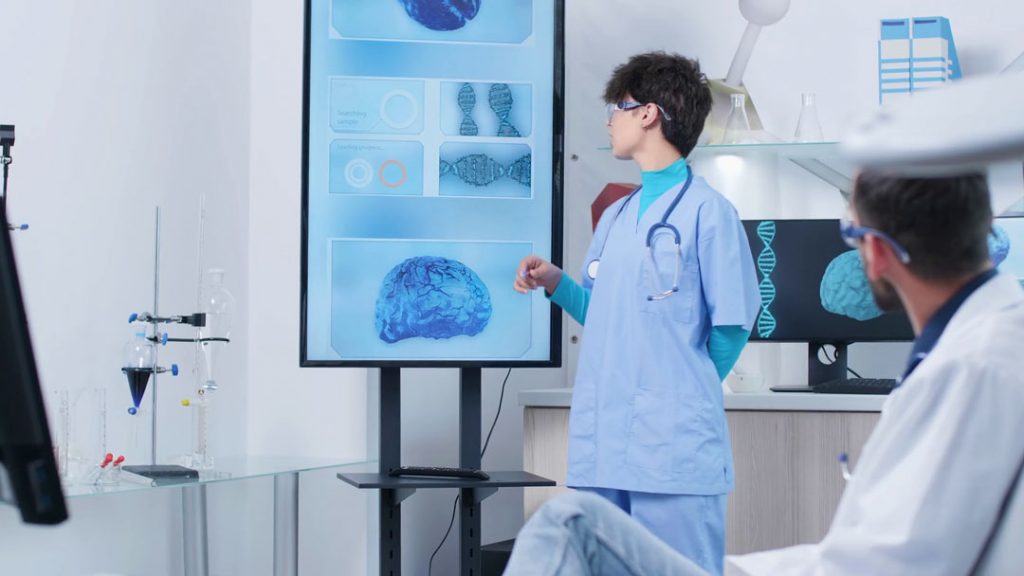 SMD Indoor Videowall
Healthcare is one of our first most priorities many emerging technologies have worked over the good establishment and management of commercial and healthcare pharmacies sector so they can enhance in the production of healthy and wealthy medical medicines for the concerned people.
The production of these healthy and wealthy medicines can be greatly increased if advanced technologies are used in the pharmacy sector. We are in introducing ourselves today with a better place whether it comes shopping center, public or it comes pharmacies sector it gets together or any concert we highly acquire of an advanced digital view not only for the sake of customers attention but for own safety zone and comfort too. Pharmacy place is an important field which is the main source of our business today as well as a better secure version for our lives. Many efforts have been made already which brought a tremendous improvement in the sustainability and management in the production of medicines and also to improve the requirements of the pharmacy field. One of the best examples is the SMD displays which are widely used as display screens in SMD Video walls and indoor activities in the pharmacy field. Pharmacy is the place where proper management and sustainability of medical items are required and thus the pharmacist pays their best endeavors in this regard and establishes, many advanced items, and also introduces these items with their customers. Video walls are among them which display all the required information bout the pharmacy and allocated locations. In your waiting hours, you can go for watching these video clips which enhance your learning capability and inform you about the systems. The system performance can highly increase and thus this speeds up the functionality of the pharmacy. Customers visit the pharmacy in comfort way next time and they do not feel any type of difficulty.
Interactive Kiosk
Pharmacies sectors also face many emerging challenges and problems because basically the field deals with the most sensitive thing in our lives. But how we can find a better solution to this? Undoubtedly rapid advancement in technological innovations is the best solution to fix the challenges arising in the way of the pharmacy field.
An interactive kiosk is an advanced computational item which is featured by specialized hardware and software that assist customers and visitors to reach out information and applications for communications purpose, commercial facts, and also for providing entertainment to them. Many leading responsible companies and medical industries are also evolved, put their best efforts letting no stone unturned to meet the challenging factors in the pharmacy field and they operate how better they can deal with the complex task. Interactive kiosk improves and wears away many problems. It improves the services anywhere and deals with customer's needs and improves the functionality of systems and it renders a wide range of services into many places such as apparels brands, hospitals, and hotels, etc. Many pharmaceutical markets are open by a collaboration of multinationals and they run as business factors while on the other hand, they innovate the advanced technologies like an interactive kiosk where the visitors' or any other concern person can communicate whenever he needs some medical items. so, the digital solutions are responsible to convey the new experiences for the consumers and also responsible for major privacies. Many technological advancements have made that are means of excitement for providing, even more, better services. The arrival of interactive kiosk innovations in the field of pharmacies makes things proficient quicker and easier and assists the pharmacy industries to boost up their rates and scales. this digitally embedded system is featured by the number of advanced specializations which make the medical industry more suitable and provide a secure platform for the production of medicines. Through this innovation, consumers can place and prescribe their orders.
Digital standee
A pharmacy place is the only place where a pharmacist interacts with the customers daily with digital standee which make them unable to communicate in a very fair environment it improves the services of communications and interactions because the pharmacist professionally deals with the customer.
Everyone knows and well familiar with the facility of digital standee in pharmacy it is nothing but an opportunity that gets you aware of the services and products in more detail.in short, a pleasant environment has thus created between customers and the board of pharmacy. Pharmacist wants to draw some of its attention and have a time with their customers but at the same time it turns out to be a major issue for another customer to consume his potential over in the waiting, this may lead to misunderstanding sometime but digital standee is the best solution of this misunderstanding which offers you stage in the form of display screen above the prescription counter of pharmacy where you get information about the customers. This proves digital standee is the most amicable way of welcoming and entertain the customers. Digital standee in every commercial place displays the information in different procedures either in the forms of video or content and the content about the products and services has proven an effective way to deliver the righteous information. many video clips about the medical centers such as many innovations in the pharmacy products are extremely effective and display the latest news about the concern place in this way through these flaunts screen the customers come to know about the current circumstances. Information's about the staff, pharmacy and medical allocations are also display over the screen which makes the customer enable to easy approach and they do not get irritated in search of the required information. Thus this builds another better solution between the customers and pharmacy.
Wall Mount Displays
Many types of issues are being generated when talk about hospital and healthcare centers in the world, somewhere these is inaccessibility of spaces for the visitors and patients while on the second hand there is less usage of technological revolutions.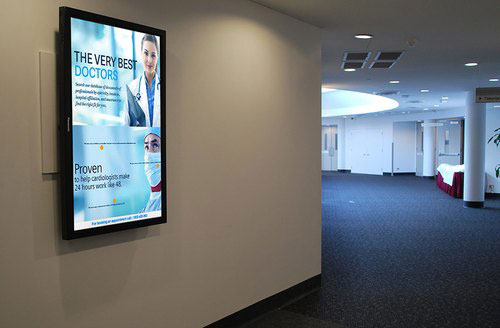 Hospitals and health care systems should highly be preserved and promoted as the most crucial and sensitive places because today health issues are the major issues as health is wealth. It should be guarded with the Fidel staff, emerging and sophisticated technological products, and supported by the world's best innovation products there should be no compromise in the case of healthcare. Hospitals and other healthcare centers can mutually create and promote an inspiring environment for patients, medical staff, and other employees of the centers. Most people are ignorant about the locations, symptoms of different ailments, and about other major events happenings so they can be provided with a better platform through the wall display screens at various locations in the hospital. While during their visit to hospital and healthcare centers they strike with these alluring screens and in their leisure time they consume their time interacting with these display screens. Wall mount displays are ideal factors where there is a shortage of exhibitions of different models and charts there it plays a pivotal role, as it does not require more space to surround. Thus, these display screens are the best solutions for providing information, interactions of visitors with the concerned place, and a platform to provide experience new chapters about different events. These display screens are of different shapes and sizes with bright sights and can easily motivate the visitors towards. Some screens are embedded with video clips while others are proven with content but what else is being provided to the visitors in its accurate and scalable manners. . thus these screens create and build a sophisticated look, alluring bright and lavish structures, and durable long-term corners, shelves, and wall mount display for hospitals and healthcare centers.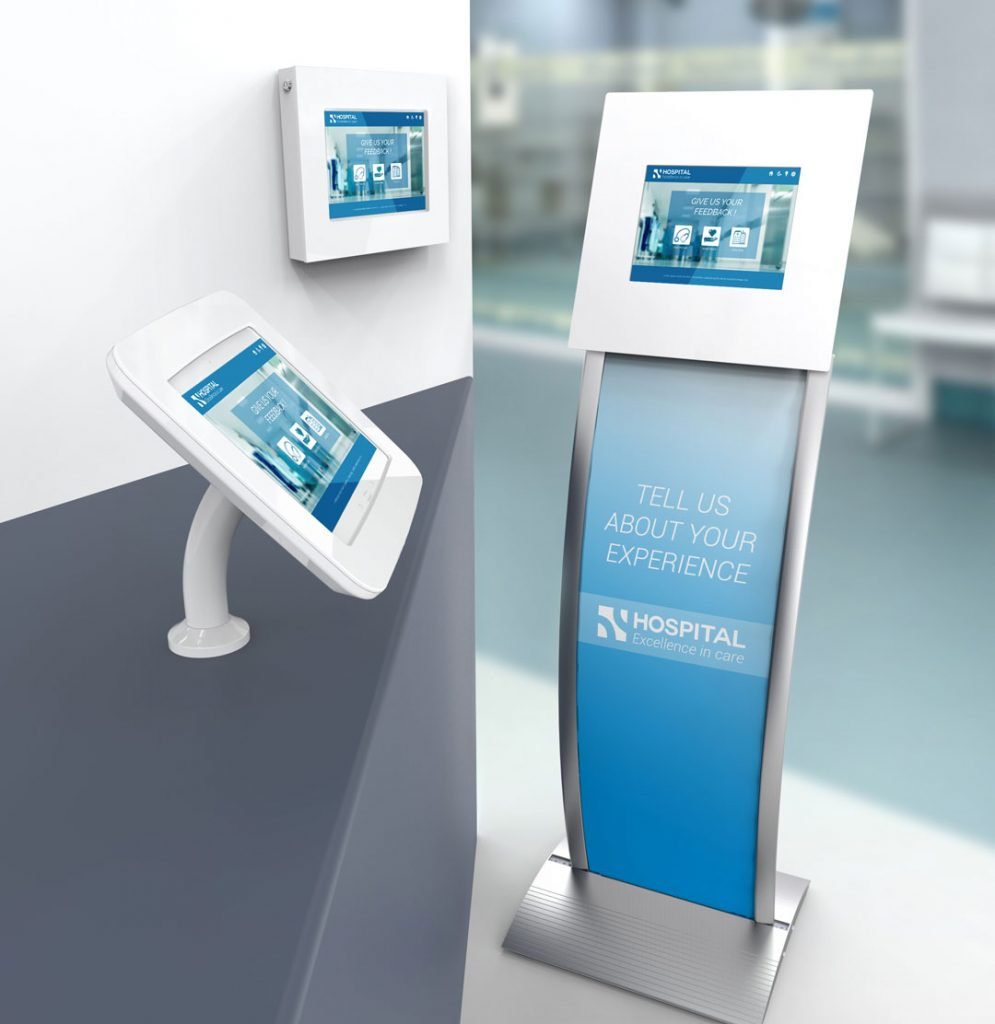 Feedback Kiosk
Feedback kiosks are mostly comprised of android tablets and ipads used for presenting opinions and feedbacks as it is an offline survey app part of the software and this feedbacks re given by customers, visitors, and employees once they experienced the allocated place and products. Feedback kiosk survey app is an easy interface to interact with the powerful and beneficial features which are already into the app for sake of customers' easy approach, like timeout, restart, comment section, and exit the survey.
The interface is ipads and iPhones which use the Franck interface which assists customers to get real-time feedback and opinions and they share their experience without any hesitations and restrictions. The survey apps are attractive and easily touchable so customers can confidently and honestly use this system for sharing their feedbacks. Either we are talking about online purchase or physical on both condition we invest our money, we always try to buy which will prove a unique and durable sometimes we demand from the managing team which is less effective because as it is under consideration. We purchase many things our daily lives requirements somewhere we experience bad and undesired drawback while sometimes we experience desirable items which are the source of customers happiness but under both circumstances, we have to deliver feedback which brings betterment in the systems services. Customers are not restricted to interact with one feedback kiosk after one by one. The pharmacy area is facilitated with numerous feedback kiosks they can use any of them without wasting their time, they either add or complaining they have the right to give feedback so next time the given instructions and suggestions provided by the customers are applied. Some of the basic questions are fetched into the kiosk feedback app that should be asked from customers and customers should share their opinions openly so, next time the instructions and given feedback comments should be considered. Customers are not bounded to their rules they have the right to coney their own opinions and thoughts about what they have experienced during their visit to the pharmacy place.