For Wedding Halls and Banquets
Tired of the same old, lackluster wedding hall experiences? Vorson's Services of Digital Signage for Wedding Halls and Banquets is here to revolutionize how you plan and execute weddings, leaving your guests in awe and creating memories that will last a lifetime.
With Vorson's displays, the wedding halls can be transformed into a captivating wonderland, where every detail is meticulously crafted to perfection. With Vorson's cutting-edge digital signage for wedding halls, we bring your dreams to life, ensuring your special day is extraordinary.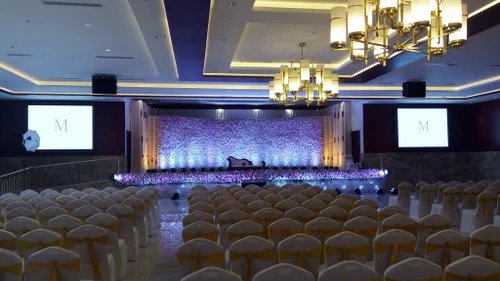 Our team of experts understands that your wedding day is one of the most critical moments of your life. That's why we go above and beyond to provide an unparalleled experience. From stunning visual displays to interactive touch screens, our state-of-the-art technology will captivate your guests from entering the hall. Gone are the days of traditional, mundane decorations. With Vorson's digital signage services for wedding halls, you can create a truly immersive environment. Our customizable displays allow you to showcase personalized messages, photos, and videos, creating a unique atmosphere that reflects your love story.
Seamless Charging Solutions for Wedding Guests
Wedding halls can be a whirlwind of activity, with guests capturing precious moments, taking photos, and staying connected with loved ones. Vorson's mobile charging stations, discreetly placed in convenient locations within the wedding hall, provide a hassle-free charging experience for guests. As the excitement unfolds, guests can effortlessly recharge their smartphones, ensuring they never miss a moment of the celebration.
Our digital signage for wedding halls also offers practical benefits that streamline your wedding planning process. Keep your guests informed with real-time updates on seating arrangements, event schedules, and even live streaming of the ceremony for those who couldn't make it. With Vorson's, you can ensure every guest is engaged and involved throughout the celebration.